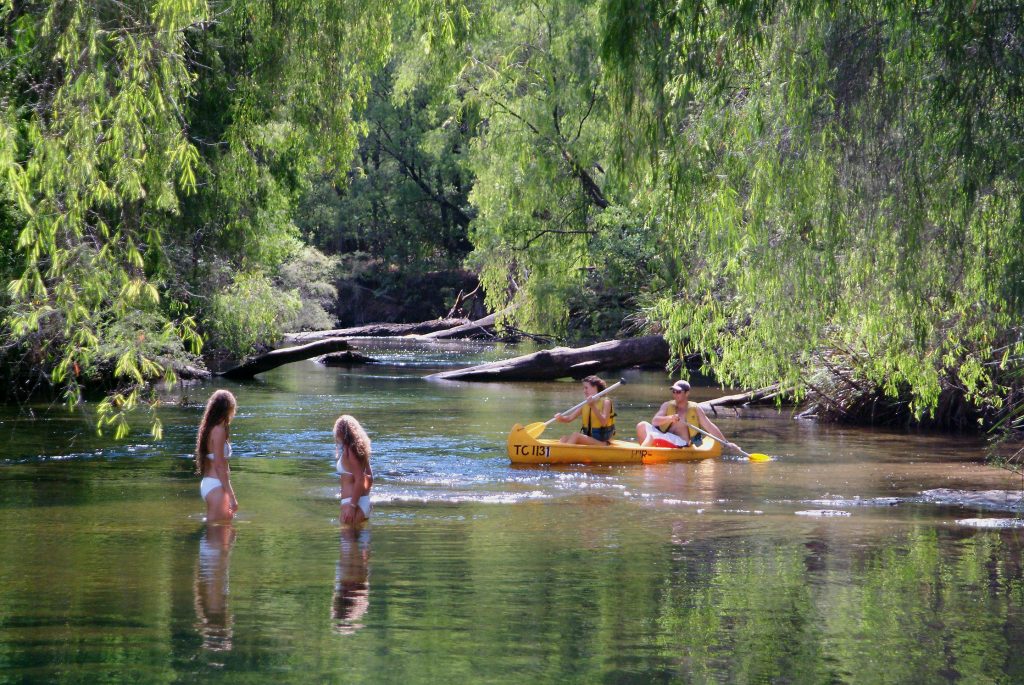 There are many beautiful swimming spots around Collie both natural and man-made. Whether you are looking to swim somewhere tranquil and shaded or swim in the sunshine to work on that tan, we have you covered.
If swimming in the sunshine isn't your thing, then places like Honeymoon Pool and Long Pool will be suited to you. These stunning spots along the Collie River are shaded by beautiful peppermint trees and an overstorey of yarri, jarrah and marri eucalypts. You will find these spots located in the Wellington National Park.
However if you thrive in the sunshine and like to work on your tan then we have plenty of swimming spots for you. Our natural swimming spots such as Minninup Pool, Potters Gorge, Big & Little Rock offer plenty of sunshine and beautiful areas for swimming. Minninup Pool is located not far from town and is part of the Collie River. Potters Gorge, Big & Little Rock are swimming areas located in The Wellington National Park.
We also have plenty of man-made swimming areas such as Glen Mervyn Dam, Stockton Lake and Black Diamond Lake. Glen Mervyn Dam is a great spot for swimming and skiing. It's located along the Collie-Preston Road about 20km out of Town and offers plenty of shade along the banks, whilst swimming is in full sun. Stockton Lake and Black Diamond Lake were originally open cut mines that have been abandoned and filled with water. They are stunningly blue, especially on clear blue sky days, making it ideal for those Instagram worthy shots. Whilst swimming is permitted in these areas, signs do warn that people swim at their own risk because, due to past mining activities, the water has a low pH level. Those with sensitive skin should limit their exposure to the water. The water in places is very deep and can be very cold. Stockton and Black Diamond are swimming in full sun but do have shade along the banks, so bringing along plenty of sunscreen is a must.
If cooling off in nature isn't your thing, then don't worry we have a local swimming pool as well. The Collie Mine Worker's Memorial local town Swimming Pool has excellent facilities such as ramp access, children water play area, BBQ's and more.
Collie has somewhere to cool off for everyone. So the time to explore it all is now!