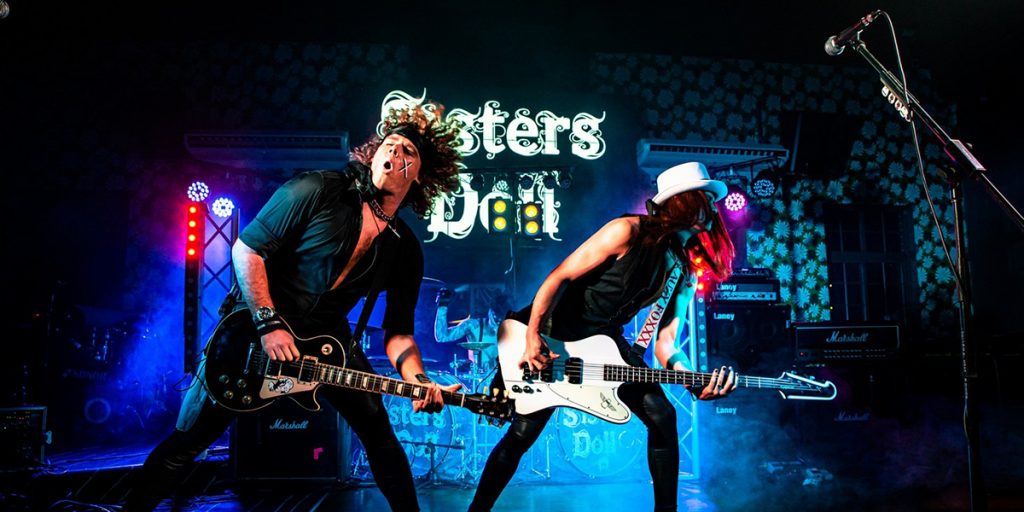 It has been nearly two years since Sisters Doll have been on their own national headline tour, but our homegrown stars wouldn't dream of leaving Collie off tour schedule.
The Sisters Doll: The Black Mirror Tour is kicking off at the Victoria Hotel this Saturday night, then playing a special primary-school gig at St Brigid's on Tuesday.
After releasing their brand new single "Black Mirror" which reached number 1 on the iTunes Rock charts, it was only natural for the boys to get back out on the road.
The single's title aptly a synonym for the reliance we have on technology, our phones, our computers, social media or the like, and its manipulation and the trepidation that comes from a generation constantly glued to "black mirrors".
"Black Mirror" is the band's newest material since 2017's "All Dolled Up" – an album that was entirely crowd funded and one that sparked similarities to that of glam rockers, Tigertailz.
Where former songs were primarily written by one member of the band, "Black Mirror" breaks that norm becoming the first song the band wrote collectively.
"Normally in the past when we write, one of us generally comes in with an idea and we go from there but with Black Mirror we all constructed it together from melodies to drum's and everything in between," says drummer Bryce Mileto.
"I believe everyone is at their most vulnerable when they are looking into the black mirror," says lead vocalist Brennan Mileto. "The concept is cool and so true and is a relevant title for our generation," adds bassist Austin Mileto. "We believe our generation is so reliant on technology, which isn't a bad thing, but I think if it keep's going in the direction it is we will all be like zombies in the future. We love technology and social media but just feel it's taking over the world."
Sisters Doll are a trio of brothers of blood and of rock 'n' roll.  They grew up in Collie, yet this is a band that knows how to turn heads wherever they go.
Sisters Doll relocated to Melbourne in 2014 to fulfil their rock 'n' roll ambitions and have a trademark melodic rock sound that rivals the best of them.
Sisters Doll is hitting all states of Australia, bringing their theatrical rock show to every club date on the tour.
Coming off a successful tour supporting rock icon John Corabi as his main support with rave reviews, Sisters Doll can't wait to bring you an unforgettable, one-of-a-kind show.
Head to the events calendar for more details.