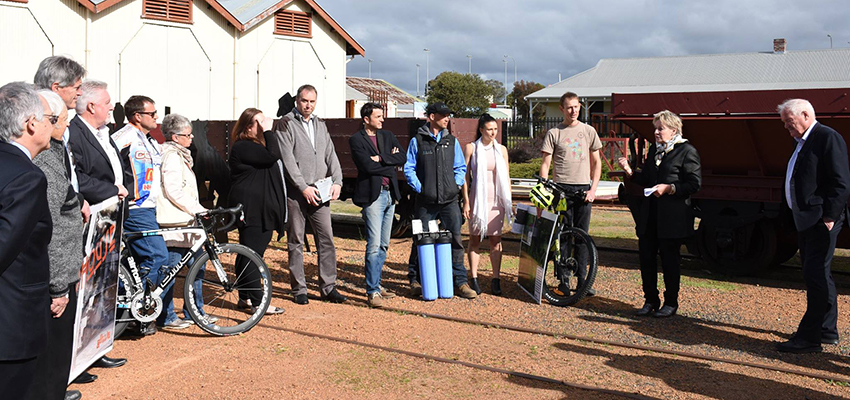 The first tranche of the Collie Futures Small Grants Program has been announced, with the support of eight Collie projects totalling $678,000 to further unlock the town's economic potential.
Funding through the first round of the Collie Futures Small Grants Program will back projects that support efforts to drive long-term economic growth and stimulate jobs creation.
A trails centre, hay processing plant, and an energy-intensive data centre are among the diverse initiatives the funding will help to advance.
Member for Collie Preston Mick Murray MLA said that creating jobs for local people was a priority.
"I'm pleased this funding will provide the financial support needed to take these exciting projects to the next level, and contribute to Collie's future through the generation of new opportunities," Mr Murray said.
"I congratulate the recipients on their initiatives. I look forward to seeing these exciting projects take shape and benefiting locals."
Initial Collie Futures Small Grants Program recipients:
DC Two – Modular Behind the Grid Technology Data Centre;
The Mellegers Family Trust – Trails Centre;
Planwest (WA) – Collie Distillery Project;
Global Marketing Technologies – Collie Hay Pressing Plant Feasibility Study and Business Plan;
Collie Synfuels – Collie Flagship Project – Fuel Cell Vehicle H2 Infrastructure and Distribution Study;
Collie Synfuels – Collie Flagship Project – Liquid H2 Export Option – Feasibility Study;
Collie Cycle Club – Collie to Donnybrook and Return Cycling Classic; and
Keip Filtration – Hydration Hub.
There will be further opportunities to apply for funding through the grants program from the $2 million available over four years to support initiatives that will generate employment opportunities, increase productivity, and expand or diversify new or existing Collie-based businesses.
For more information or to find out about future rounds, contact the South West Development Commission or phone 9792 2000.