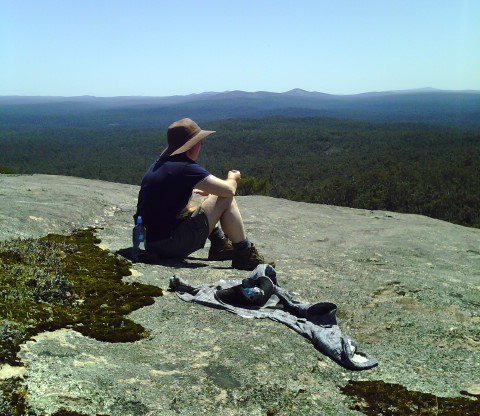 The beautiful forests and valleys of the National Park are a mecca for bushwalkers and mountain bike riders.
Several trails are located within the Honeymoon Pool-Quarry picnic areas and offer a variety of experiences depending on your fitness level.
Maps are available from the Visitor Centre or can be downloaded here.
Some parts of these trails are dual use, for both walking and cycling.
Jabitj (running water) walk trail – From the Kiosk to Honeymoon Pool is 6km one way, 12km return. Allow about 2 hours each way for this relatively easy walk along the Collie River through mature forest, granite outcrops, river pools and rapids. Stop along the way, kick off your shoes and cool your feet in the refreshing waters of the Collie River.
Kurliiny Tjenangitj (come and see) walk trail – Honeymoon Pool to the lookout and return is 5km. The entire loop trail is 9.5km. A steep climb takes you to a lookout with fabulous views over the forest and Collie River.
Sika dual use trail – a 9.8km loop. This walk and cycling trail takes you through jarrah forests with views over the lower Collie valley. Starting from the kiosk the track heads north past Potters Gorge with its good swimming and picnic areas.
Munda Biddi Cycle trail – This long distance cycle trail reaches from Perth to Albany and passes through the Wellington National Park..
Location
Wellington National Park