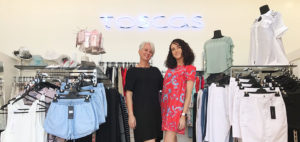 Toscas Boutique has been operating in Collie for almost 50 years but has had new life breathed into it thanks to a change of ownership and a recent renovation.
Dynamic mother and daughter duo Greta and Georgia Moloney have infused their carefree and elegant styles into the product range, which includes Sass, Betty Basics, Boo Radley, Fate and Becker, Threadz, Clarity, Jag, Jump, Shilla, Cooper St and Foil.
The ladies aim to provide for all ages and sizes and provide friendly, honest service.
Opening hours
Monday to Friday 9 am to 5 pm
Saturdays 9 am to 1 pm
Location
Collie Central Shopping Centre on Forrest Street
Email