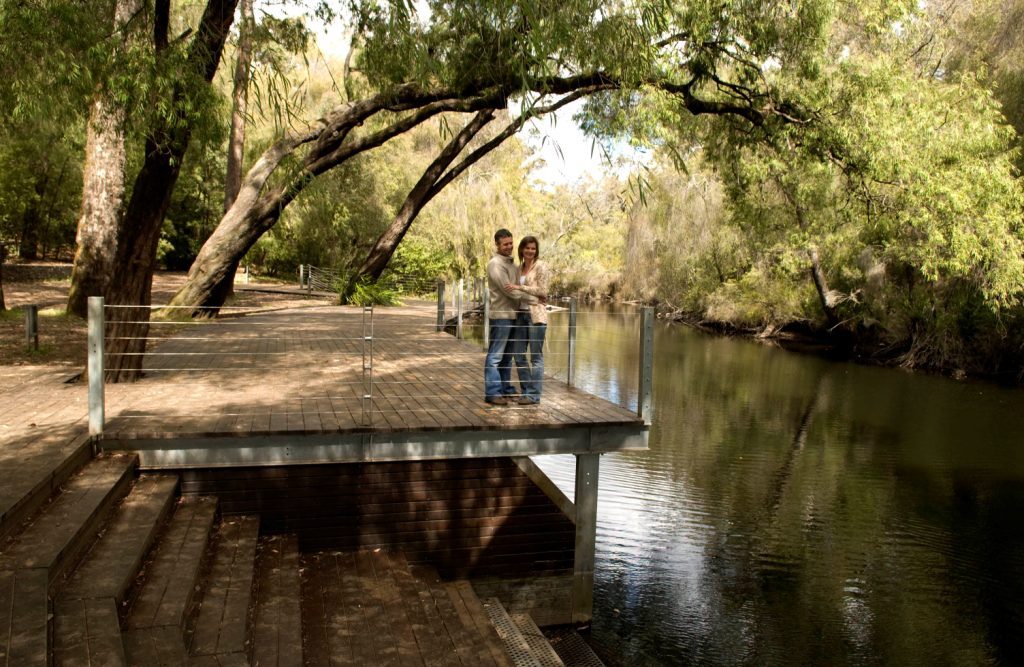 This very popular campground is set along the banks of the Collie River and shaded by graceful peppermint trees and an overstorey of yarri, jarrah and marri eucalypts.
A large deck extending out over the river offers good views, with steps providing easy access to the water. Swimming and canoeing are popular.
Flushing toilets, picnic tables, free gas and wood barbecues are provided (bring your own wood).
It is always a good idea to pack a small gas camp stove in case of a fire ban. Even though there are some gas BBQs, if a fire ban applies the barbecues may be crowded and it may mean a lengthy wait.
Campfires are allowed between the hours of 6pm and 10am in the cooler months and are to be contained in the designated fire pits only – not on open ground. Please clear the area around the pit to prevent a bushfire. To check when there is a fire ban please visit DFES website and to check current campfire conditions click here.
The use of generators are permitted between 8am-9pm unless there is a total fire-ban in place. Please remember to respect others and take into account how the noise could affect other campers.
The 20 tent campsites provided vary in size to cater for families, small groups and individuals.
Untreated water is provided from taps around the campsite, but it is not suitable for drinking.
Kids will enjoy spotlighting at night with a torch – they're bound to spot a possum, owl or frog. From Honeymoon Pool there are several bushwalking and mountain bike tracks to enjoy.
Honeymoon Pool is designed for tents only. Due to the narrow winding road, it is not suitable for caravan and camper trailers.
Honeymoon Pool is a dog-free camp spot as it is in a National Park.
Reservations for camping spots at Honeymoon Pool can be made through the Explore Parks website.